Join Us on a 21-Day Knee Bending Challenge
Squatober is more than just a fitness challenge; it's a celebration of strength, camaraderie, and personal growth. Join the global movement, bend those knees, and discover the incredible transformations that await. SQUATOBER isn't just a challenge; it's a life-changing experience. Will you rise to it?
What is SQUATOBER?
SQUATOBER is not your average fitness challenge; it's a journey of self-discovery and growth. It's a weekly programmed knee-bending regime that welcomes all who seek to test their limits and have a great time while doing it. We have participated in the worldwide phenomenon for the past 5+ years! We ain't gonna stop now!
You can check out the official source and get gear here.
Here is the Warrior Fitness celebratory graphic for 2023.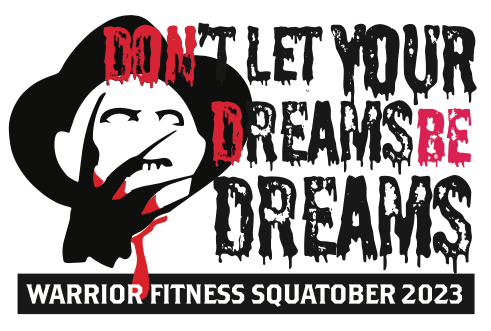 The Challenge
Is it easy? Absolutely not. But is it doable? Absolutely! SQUATOBER challenges you just like life does, with its highs and lows. The beauty lies in the fact that you won't face this month-long adventure alone. We'll be doing it together, day-in and day-out right here at HQ.
Embrace the Journey
This isn't just about squats; it's about pushing your limits and discovering your inner strength. Embrace the journey and let it change you for the better. It's not just a physical challenge; it's a mental and emotional one too. Can you make it 3 days a week or maybe even *gasp* 5 days? Let's goooooo!
Download a SQUATOBER calendar and check off the days you make it and make it through!
If you are a gym member, you will be provided one of these 🙂