This November let's all work to build HABITS that help us create the life we want. Do something EVERY DAY no matter how small, but do something!
Establishing Success-Oriented Daily Habits
Crafting a daily routine that embraces incremental progress, no matter how small, lays the foundation for fostering positive habits. For example, if your aspiration is to write a novel, dedicating yourself to composing just one paragraph each day can lead to significant progress over time. This consistent commitment to daily actions shifts your perspective from daunting long-term objectives to attainable, manageable tasks.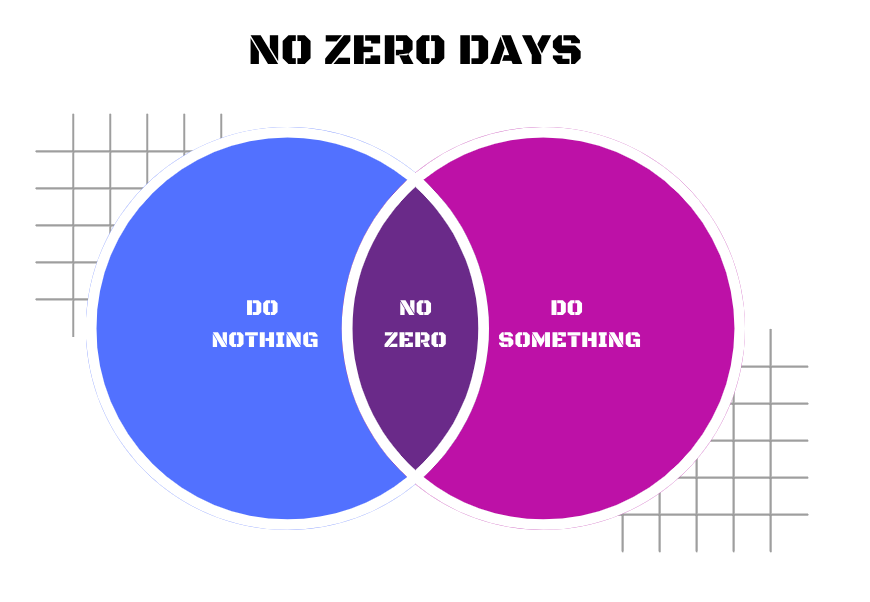 The Significance of Micro-Progress
Micro-progress, at the core of the 'No Zero Days' philosophy, ensures constant forward momentum. It mitigates burnout risk by breaking substantial tasks into manageable steps, particularly helpful for seemingly overwhelming projects. Remember, even the longest journey commences with a single step.
Sustaining Motivation and Preventing Burnout
Maintaining enthusiasm over time can be challenging, but 'No Zero Days' provides a solution to combat burnout. By celebrating daily achievements, no matter how small, you foster a sense of accomplishment, reigniting your motivation and keeping your journey exciting. Moreover, minor daily tasks are less likely to overwhelm you, ensuring continued engagement and enthusiasm.
LET'S GO NO ZERO FOR NOVEMBER
So what's the deal, you're asking?
For the month of November the challenge is to do "something" every day. Whether it's Fitness (Health, Diet, Exercise, etc…) or Self-care (Learning, Meditating, Volunteering, etc…) related at least every day of the month. We've provided a nice PDF print-out tracker for you to track your progress of doing something every day.
The result is you have no-off days, no zero days! It's how habits are BUILT!
How to participate:
Daily Action Log: Keep track of your small yet significant daily actions. Check a box once you've done one thing that fits into one or each of the categories: Fitness/Health, Self-Care/Learning, and Habits. They can all be the same or you can do just ONE thing!
Weekly Reflection: Reflect on your progress at the end of each week. Celebrate achievements and adjust your strategy for the upcoming week.
Habit Forming: Cultivate consistent habits by monitoring your daily efforts. Witness your incremental progress as it accumulates over time.
Motivation Boost: Use the provided space to jot down motivational quotes, reminders, or personal affirmations that keep you inspired and focused.
Coherence Enhancers: Implement transition words, as discussed in the article, to connect daily actions seamlessly, promoting a sense of purpose and continuity.
How to Use it:
Download: Get your copy of the "No Zero Days" Progress Tracker PDF by clicking the link below.
Print: Print the PDF to have a physical copy on hand, making it easy to fill out daily and reflect weekly.
It works for any given month you use it in: There are 31 day blocks, use it for whichever month you would like to start.
Download Your "No Zero Days" Progress Tracker Now:
Download PDF
Embrace the power of "No Zero Days" with this user-friendly progress tracker. Watch as your consistent efforts pave the way for the realization of your dreams. Remember, each small action matters. Start tracking, start achieving.